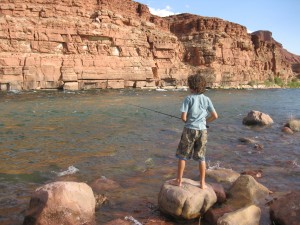 The small car I rented was not available, rather the attendee upgraded me to a mid-size for the same rate, plus a 10% discount, plus a $25 satellite thing – not sure what that even was, but we got it.
Next a man at the gas station sparked a conversation about healing the earth, acknowledging that it is the children that will do the real work, and they must be supported, talking about sacred sights and their astronomy. Then, almost as importantly, he recommended a far better fishing spot for Carl and I, closer to the North Rim, describing exactly the fishing I am accustomed to.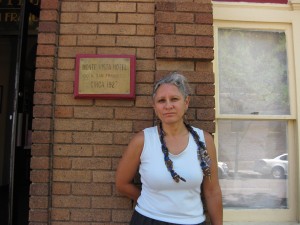 Registration at Monte Vista hotel – oh boy, of course, room on the 4th floor. Sign after sign. Sometimes these little serendipities are the most exquisite signposts of: Keep Going!
Had breakfast and walked around quite a bit. Next stop shopping: fishing stuff including license, handmade beads, Indian and ecology activity books. Our next gem was meeting a man making flour out of mesquite pods –  says high protein, loaded with nutrients, this use quite unknown throughout the world except to the native Americans quite some time ago – at the local famer's market. He's doing research even the universities don't know about yet.
"I need to get some of this!" I wonder aloud, not only can we harvest this in Hawaii, but I don't know if this knowledge is realized in Peru – such a sustainable possibility.
With one purchased bag in hand, he shares with me the potential for Hawaii – where it is grown, but the pods are not produced for flour. Instead it is labeled as the pest: kiawe! I wondered if it was related to mesquite. Then he explained that Peruvian flour is the only other available source at this time. I reach to buy a second bag swirling with all the potential and richness of the conversation: as we exchange contact information, he gifts me the second bag.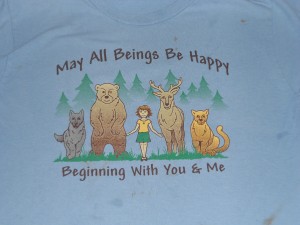 We then started to walk to the hotel [what hotel], walking by an art festival. Everything seems to be in celebration. We meet two women selling t-shirts: "May All Beings Be Happy Beginning with You and Me."
We conversed, it came to talk of the spirit.  I shared our journey with them. They gave us information about three hikes into the Grand Canyon of varying distances depending on our calling that day. After I talked about heading to the Hopi reservation, one then mentions that there's a Hopi festival going TODAY and gave us directions.
She said, "Maybe you can find someone there to talk to."
"Yes, thank you," I marvel as she gifts me a canvas market bag I had been secretly coveting.
As if the Universe had not already been bestowing bounty upon bounty, on our way out Carl was drawn to paintings of animals, bears and wolves. We selected two, and when Carl couldn't decide, he bought one and the man gave him the other.
So many gifts…